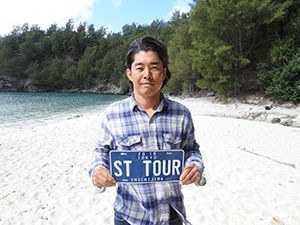 Became a scuba diving instructor in 2006 and worked in Australia, Guam and Fiji before moving to Chichijima in 2010.

I am currently engaged in the protection of Albatross on Keta-island (an uninhabited island of Ogasawara) as well as native insects such as endemic dragonflies and tiger beetle. I also help out with efforts for the removed of invasive species.

I love festival and surfing, and achieved a longitudinal profile between Chichijima and Hahajima by SUP.

I am not a native speaker of English, However I learned English through working as a diving instructor in various countries. I will guide you the island with 'Omotenasi-heart', the Japanese spirit of hospitality.
ST Tour Guide
Shunsuke Takeda